---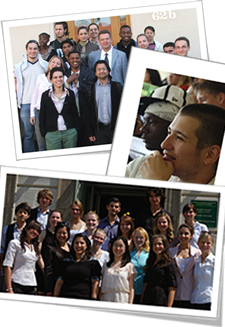 ---
Links
---
Contact
International Bachelor Program
Martin-Luther-University Halle-Wittenberg
School of Business and Economics
phone: +49-345-5523324
phone: (9.30-11.30 UTC+1)
phone: IBSc-Team on Skype
international.bachelor@wiwi...
Grosse Steinstrasse 73
06108 Halle
---
---
Login for editors
---
Business Economics
Welcome to the International Bachelor Program
The International Bachelor program for Business Economics is a unique course of studies offered to both German and international students. It is designed to meet tomorrow's needs for highly educated graduates who apply their excellent understanding of economics to challenges in a multilingual environment.
The program at a glance:
Excellence in education
Integrated language classes
Up-to-date facilities and technical equipment
Excellent career oportunities
No tuition fees and an affordable cost of living
Thriving and modern city with 20,000 students
The Business Economics program allows you to study in an international environment with small class sizes and lectures held by German and international professors. The first two years are taught entirely in English and will familiarize you with subjects relevant to both business studies and economics. In your final year, you may then choose from a broad range of advanced courses from the English and German curriculum.
The program starts in the fall semester, i.e. October. The application period begins in March and the deadline is July 15th.
For more information about the application process and required documents, please click here.
We encourage you to contact us with any remaining questions you may have.
---
---