Program
Overview
The Business Economics program is designed for students who want to acquire advanced skills in the fields of economics and business studies, and obtain these qualifications in a multilingual environment.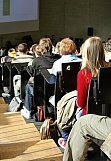 While the first two years are taught completely in English, students are expected to have raised their knowledge of the German language to a level that allows them to participate in German courses by the 5th semester as well. Conversely, German students will have to study an additional foreign language, too.

In the course of their studies, students will improve their negotiation and communication skills, their teamwork and leadership skills, and familiarize with problem-oriented thinking and problem-driven model analysis. They will have to show a great amount of self-initiative to attain these goals, and readily available academic literature is an indispensable aid.

Our students acquire a range of transferable skills, enabling them to pursue a wide choice of careers, including those in government, international agencies, private sector organizations and education. The applied nature of the course greatly appeals to employers and our graduates enter careers in banking, accountancy, government and the corporate sector.

Our graduates can also continue their education and attend a growing number of Master's programs. We currently offer the following Master's degrees in German:

an a Master's program in English is to follow soon.
Alternatively, students may choose one of our partner universities or any other university to continue their studies.
Curriculum
The curriculum is comprised of mandatory courses and electives. In the first two years classes taught in English convey fundamental business, eonomic, legal and quatitative concepts and are accompanied by intensive training in foreign languages depending on your individual background.

In the final year students may then choose from a broad range of electives taught in both English and German that reflect their personal interests. Advanced classes are offered on nearly every subject and whether you want to specialize in business issues like accounting, economic analysis of trade or public health care, or delve into time series and quantitative analysis is entirely your choice.
In the download section you can download an exemplary curriculum that you may rearrange throughout your studies to suit your personal preferences.
---
---